21 Best Restaurants in St. Petersburg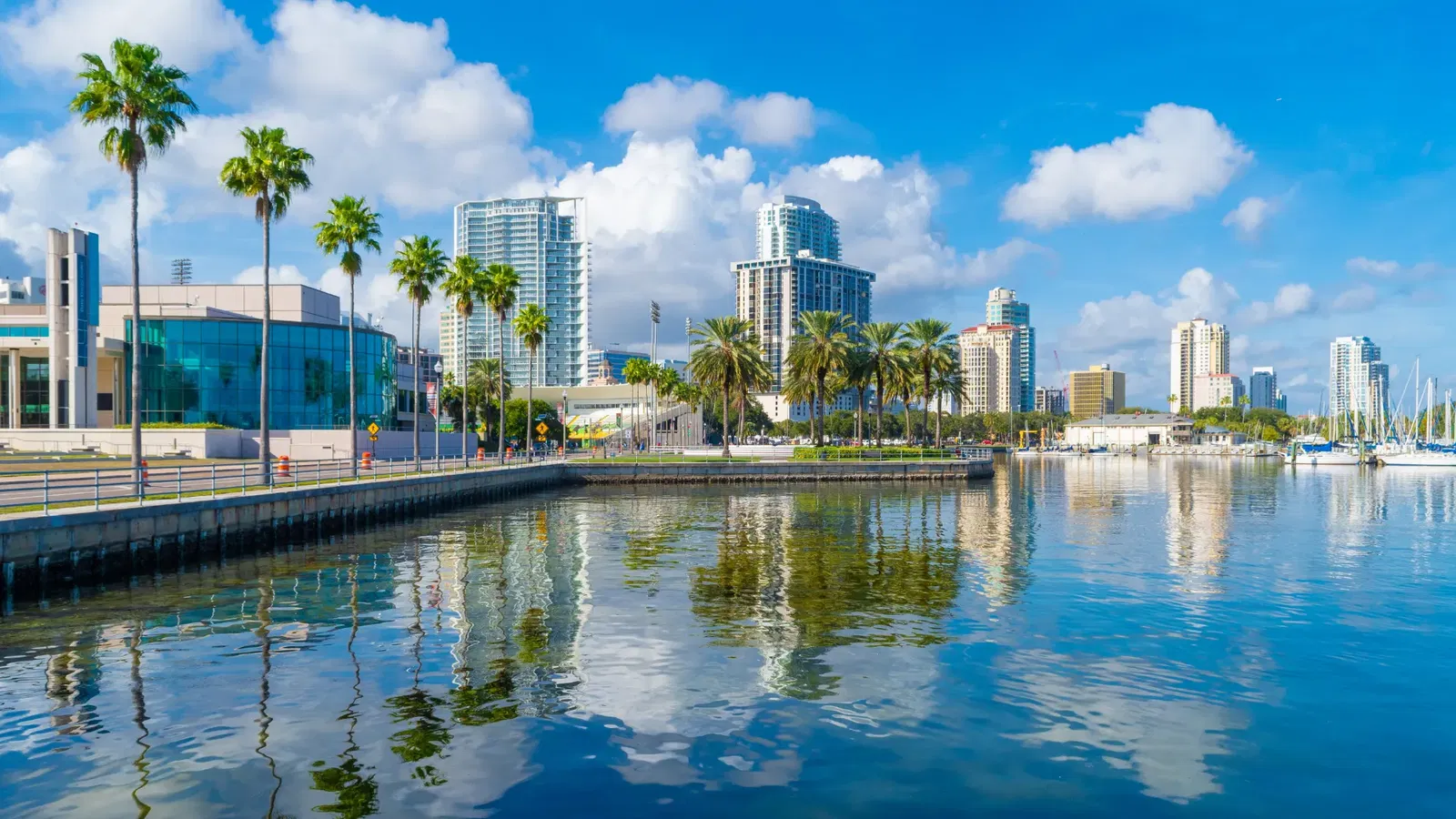 St. Petersburg, Florida, home to The Sundial, The Pier, Tropicana Field and more. With so much to do, you can easily spend an entire day in the city, which means you need to know where to eat! No matter the time of day, St. Pete is packed with top rated coffee shops and restaurants. Before you hit the city, check out the 21 best restaurants in St. Petersburg!
Donuts/Bagels

4.9 Stars 45 Google reviews
Serving home made ice cream, fresh made to order donuts topped with so many goodies, coffee, and of course home made brownies and cookies.

4.6 Stars 102 Google reviews
Cosmic Donuts provides a variety of specialty donuts to their customers. When you step into their shop you will be blown away by the types of donuts you will see!

4.6 Stars 909 Google reviews
They offer an assortment of authentic, NY-style bagels, bialys, gourmet donuts, breakfast and lunch sandwiches, grilled paninis, home-brewed coffee, espresso, and more.

4.7 Stars 271 Google reviews
While they also make delectable cakes, cookies and other sweet treats, you can swing by in the morning and pick up gourmet donuts.
Coffee

4.7 Stars 882 Google reviews
A local family owned coffee shop, serving in-house single origin and organic coffee. Monthly art premieres featuring St. Pete artists and music, as well as music and benefit events!

4.8 Stars 191 Google reviews
They offer some of the finest coffees from around the world, freshly roasted for peak flavor, brewed using state-of-the-art equipment and water filtering systems, all to capture and pour that perfect cup.

4.6 Stars 1,062 Google reviews
A locally owned and operated café & coffee roaster. Serving specialty coffee via full espresso bar, house made pastries, tea, seasonal specialties, natural wine, and canned beer.

4.8 Stars 298 Google reviews
Using sustainably sourced coffee beans, they even have an innovative new zero emission coffee bean roaster. Their dedication to quality can be tasted in every cup.
Brunch
Tap Room at the Hollander Hotel

4.6 Stars 635 Google reviews
The Tap Room is the on-site restaurant at the Hollander Hotel serving breakfast lunch and dinner.

4.5 Stars 174 Google reviews
Natives of St. Petersburg, Jason and Rob joined forces with New York City's Executive Chef Susan Burdian to bring a globally inspired menu from a scratch kitchen.

4.7 Stars 317 Google reviews
The Breakfast Company is a family-owned restaurant serving breakfast and lunch. They feature scratch-baked goods including specialty muffins, brownies and more.

4.5 Stars 847 Google reviews
Located in the Research & Education Building at the Johns Hopkins All Children's Hospital, The Library has the familiar aroma of coffee, the promise of a delicious meal, and the anticipation of friendly buzz.

4.7 Stars 897 Google reviews
Their handcrafted, specialty coffees and sweet treats are especially satisfying. Located in the center of the beach goer's paradise, sitting on Gulf Blvd with Boca Ciega Bay to the rear with the beautiful white sands of Madeira Beach in view.
Lunch

4.5 Stars 2,475 Google reviews
At BellaBrava, they emphasize the guest experience, preparing excellent food derived from Italian recipes, accessible wines, and extraordinary service.

4.8 Stars 314 Google reviews
Their menu offers classic dishes like foie gras and raclette alongside contemporary options such as beet carpaccio and spicy 'nduja sandwiches. Their wine library boasts nearly 100 selections from France, Italy, Spain, the US and other notable countries.

4.7 Stars 1,215 Google reviews
Their Cali inspired menu is full of favorite flavors recreated with their own twist and made from fresh, whole, and sustainable ingredients. Pretty much everything on the menu can be customized to your taste.

4.6 Stars 1,198 Google reviews
Biscuits served in more ways than you can think of! And each and every one is full of flavor like you've never experienced.

4.6 Stars 1,005 Google reviews
Born out of a love for authentic Mexican cuisine with fresh and quality ingredients; all of their corn tortillas are made in-house, their meats are slow-braised, and they use fresh local produce.
Dinner

4.6 Stars 2,867 Google reviews
With a polished yet well-worn vibe and a menu that features locally grown seasonal ingredients, Noble Crust turns traditional Italian dining into a whole new experience – an experience they call Deep South Italian.

4.6 Stars 989 Google reviews
A reimagined interpretation of the American steakhouse. Born out of an undying passion for creative cuisine with avant-garde sensibility and artistic flair, Rococo Steak embraces a lighter, livelier and decidedly more decadent dining experience.
Ceviche Tapas Bar & Restaurant

4.5 Stars 2,435 Google reviews
Inspired by Barcelona and its laid-back and delicious approach to life, they recreate the magic of the Iberian coast here in the Bay area.