Florida Strawberry Festival 2023 Guide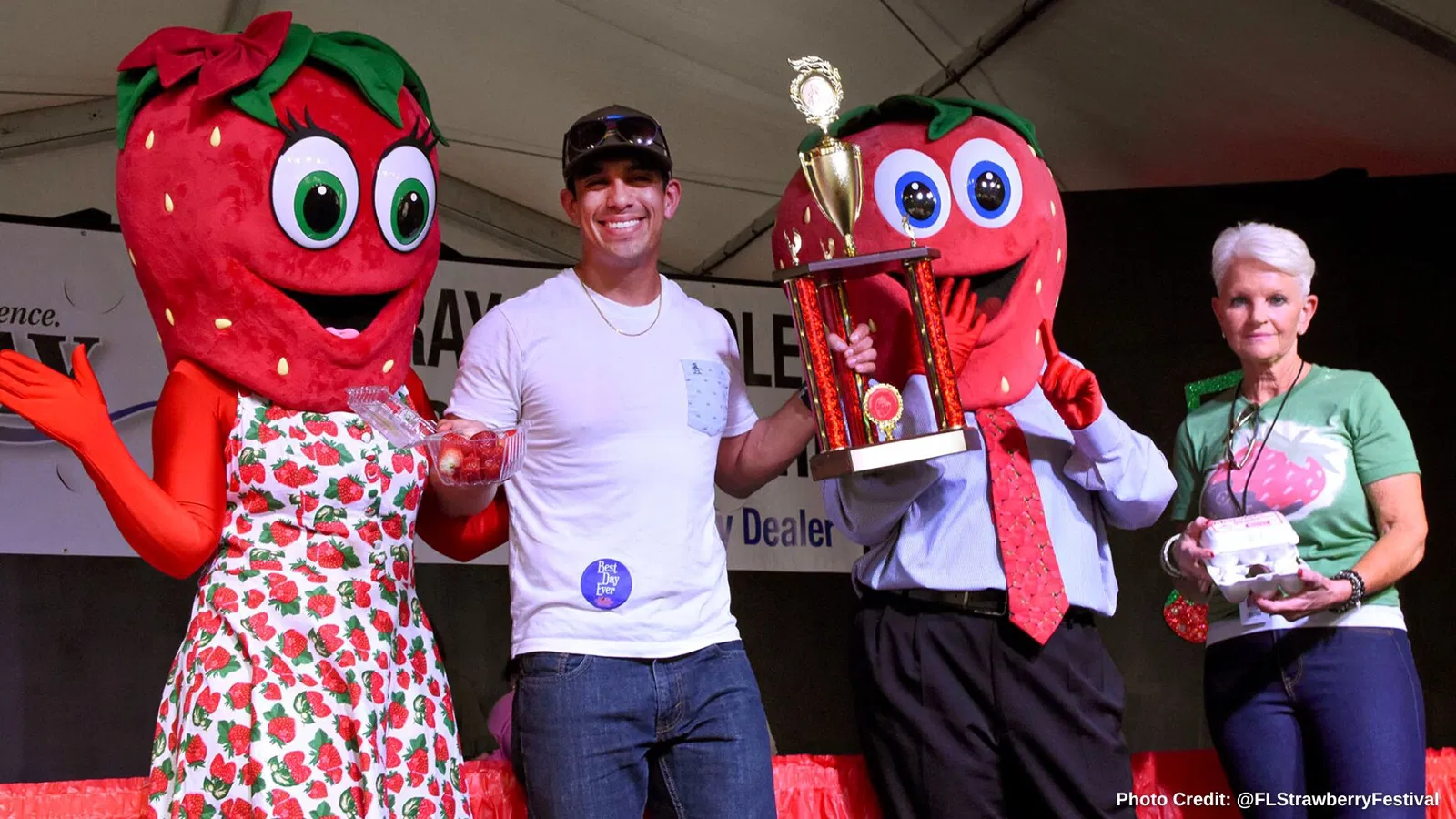 It's strawberry season in Florida and you know what that means, the annual Strawberry Festival in Plant City is here for 2023! This year the festival will take place Thu, Mar 2, 2023 – Sun, Mar 12, 2023. Every year the Florida Strawberry Festival brings sweet strawberries in every fashion you can imagine, world-famous headliners, exciting rides and attractions and fan-favorite food! With so much to do, we've put together the ultimate guide for the 2023 Strawberry Festival in Plant City.
Tickets
First things first, you will need to purchase a gate admission ticket for any day you decide to go. You will also need a gate admission ticket on top of headliner tickets if you're planning to go to one of the concerts. You can purchase gate admission and entertainment tickets here.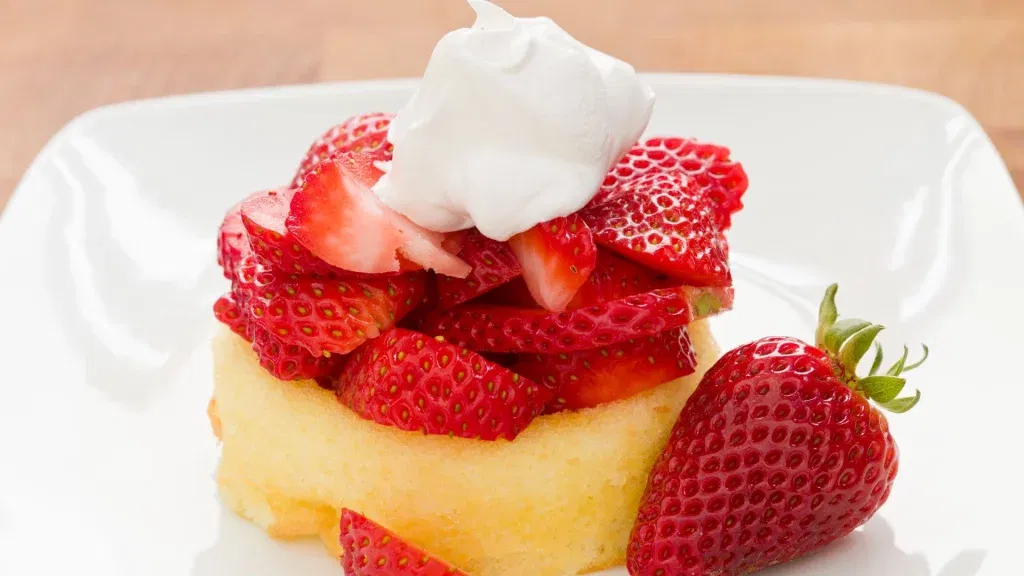 Food
There are truly too many strawberry dishes to list, so we'll name a few of our favorites! Keep in mind, there are also typical concessions like burgers, Philly cheesesteaks, fries and more!
Very Berry Sugar Waffle
Location: Fain's Concessions – South side of the Festival grounds
New for the 2023 season, a strawberry flavored sugar waffle dusted with powdered sugar and topped with a heaping mound of fresh strawberry filling, whipped cream, and a sweet strawberry.
World-Famous Strawberry Shortcake 
Location: *Multiple locations* East Historical Society Shortcake Booth – South of the TECO Expo Hall
The name says it all! It's a world-famous traditional angel food cake topped with fresh strawberries and filling, and finished with whipped cream.
Strawberry Pizza
Location: Brandon Farms – North of the Softub Spas Carriage House
This dessert pizza uses a graham cracker "crust," a cream cheese confection for "cheese," strawberry glaze as "sauce" and sliced strawberries as "pepperoni."
Strawberry Dole Whip
Location: *Multiple locations* Netterfield's Popcorn and Lemonade – Edwards Street and Pioneer Village
The classic Dole Whip that everyone loves but with a sweet strawberry flavor!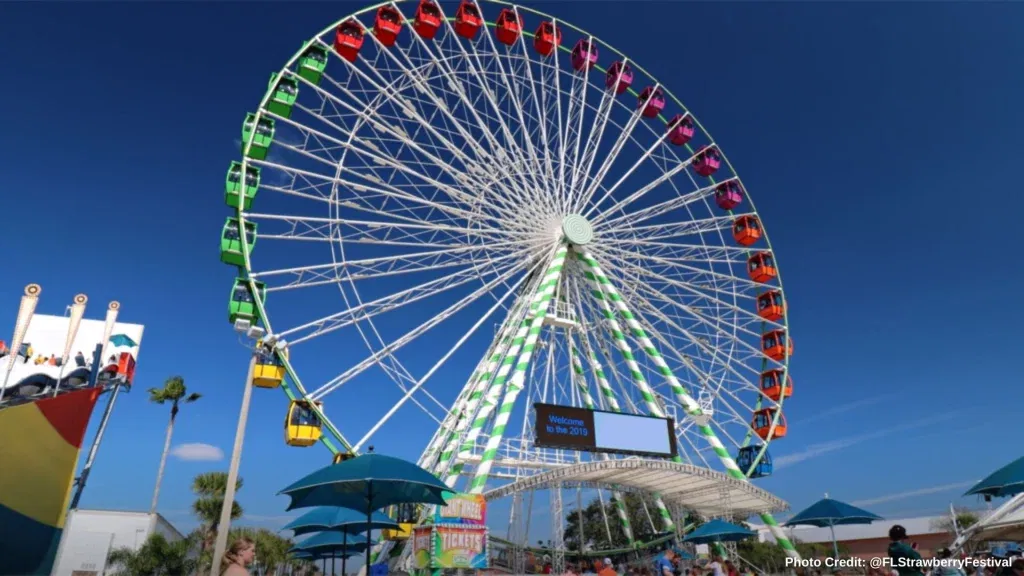 Rides
It's not a trip to the Strawberry Festival without stopping by Belle City Midway for some thrilling rides, this year there are over 85 rides. While Belle City is great fun suitable for all ages, there is also the Kiddie Korral which is filled with rides better suited for your little ones. Here are some highlights of rides you can expect at the festival this year.
*NEW* Berry Big Wheel – Belle City Midway
A 155′ feet tall wheel that seats 126 people! This new addition will give you an exhilarating view from the top of the festival grounds.
Crazy Mouse Coaster – Belle City Midway
Twist and turn on this rollercoaster. Take sharp 180 degree turns that'll leave you feeling the G-force for sure!
Berry Go Round – Kiddie Korral
Climb inside a giant berry and take a whirl around the track on this ride – perfect for little ones!
Slide – Kiddie Korral
Have your little ones climb to the top of the giant slides and take a fun glide down to the bottom – the slide is just the right height for the smaller kids!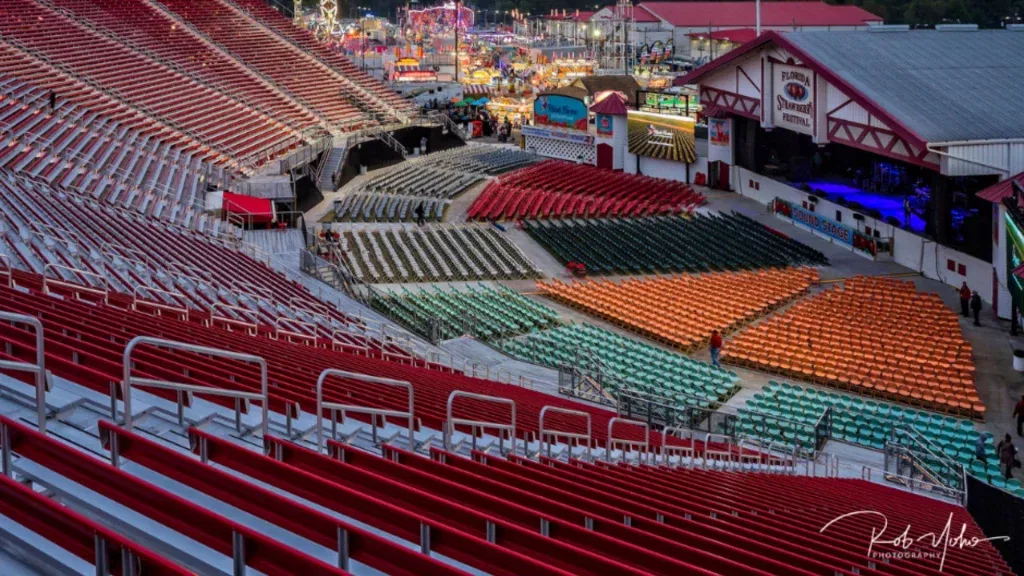 Entertainment
Enjoy world-class headliners at the Strawberry Festival this year, as well as free entertainment! All performances will take place on the Wish Farms stage! Be sure to purchase tickets ahead of time for entry to any of the headliner concerts (keep in mind you will also be required to purchase a gate ticket as well). Here are a few of the amazing performers you won't want to miss:
Walker Hayes – Thursday, March 2, 2023 · 7:30 p.m.
Willie Nelson & Family – Friday, March 3, 2023 · 3:30 p.m.
Ludacris – Saturday, March 4, 2023 · 7:30 p.m.
Chris Young – Sunday, March 5, 2023 · 7:30 p.m.
Lynyrd Skynyrd – Sunday, March 12, 2023 · 7:30 p.m.
For the full line up click here.
As you can see there is so much to do this year! Especially with all the new food, rides and entertainment!
To take a look at what is happening each day of the festival take a look at the full schedule.