53 Community leaders participating in Habitat for Humanity's inaugural CEO Build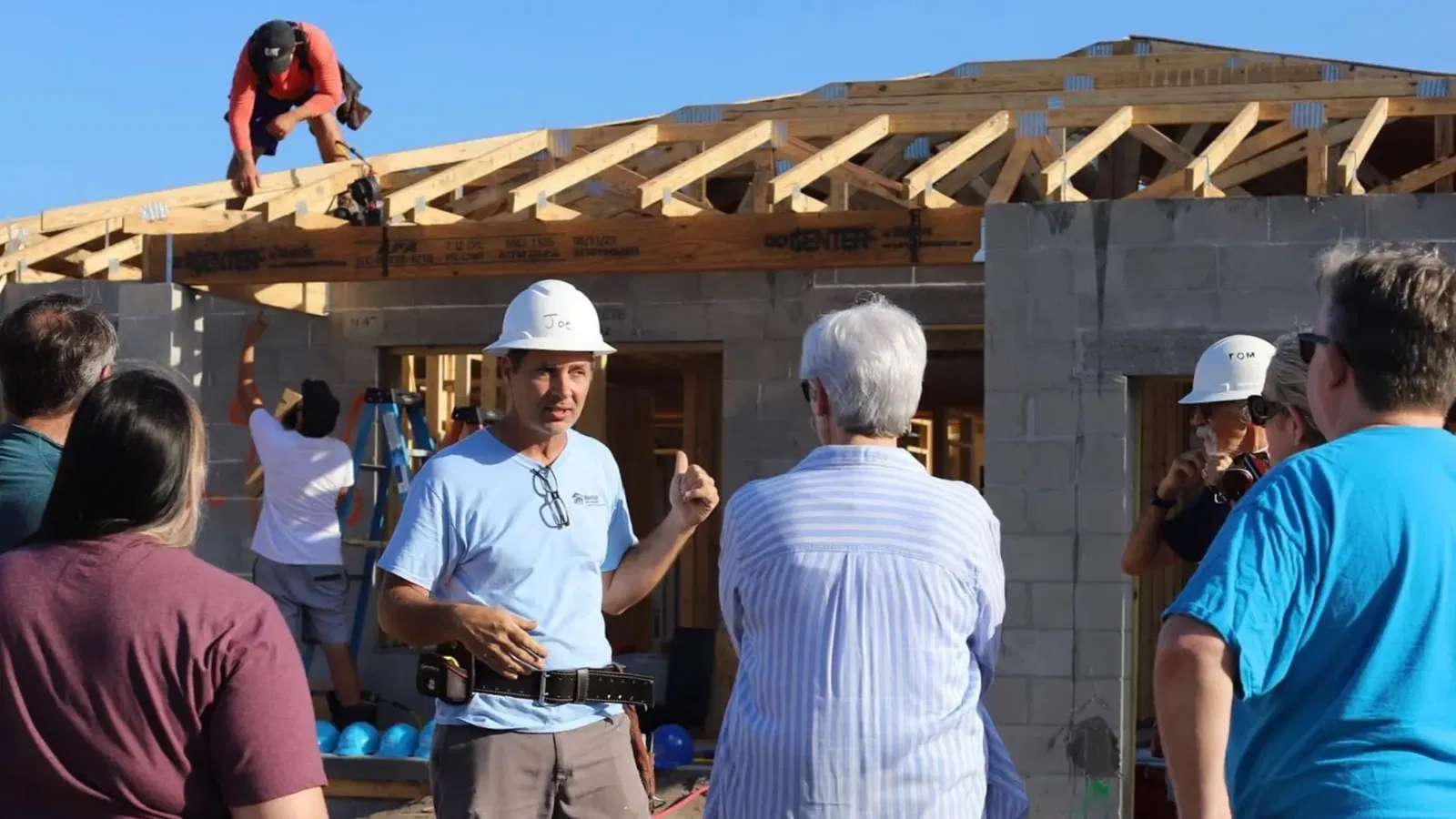 More than 50 community leaders from organizations across the Tampa Bay Area are coming together for Habitat for Humanity's inaugural CEO Build. This year's honorary chairs are Mindy Grossman, President & CEO of WW (formerly Weight Watchers) and Bill Brand, CEO of Rue21 and Habitat for Humanity International Board Member.
The Homeowner Family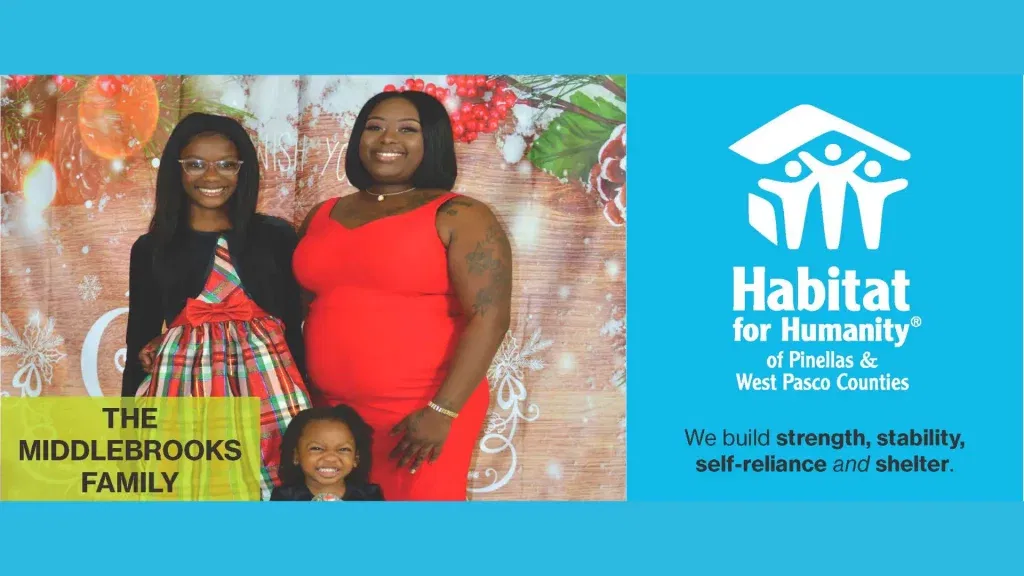 Jasmine Middlebrooks, a CNA at Tampa General Hospital and mother to two daughters has recently fallen on very hard times. Even after 2 years of consecutive hardships, Jasmine made sure to stay strong for her daughters. She knew that she could not give up on being a mother to her children and wanted to be a role-model for them. "Bad events happen back-to-back, but I knew a blessing was coming soon."
Hope is what helped Jasmine persevere and just in the nick of time, she was accepted into the Habitat program. She felt overjoyed, blissful, full of energy, and felt as if a weight was lifted off her shoulders. "I smiled and smiled as I texted all people who I know would support me on this journey, helping with hours and just be there for encouraging words." The Middlebrooks family will now become new homeowners thanks to Habitat for Humanity of Pinellas and West Pasco Counties.
"At Habitat, we partner with businesses across our service area to help local families achieve the dream of affordable homeownership", explains Mike Sutton, Habitat Pinellas and West Pasco president and CEO. "We are fortunate to have so many local organizations committing to bettering their community through their corporate social responsibly initiatives. The CEO Build will allow that investment to continue through the sponsorship of the Middlebrooks family's home."
Community Leaders
53 business leaders will work side by side to build a home for Jasmine and her girls. Here is what Bridgette Bello, a participant, TBBW CEO and publisher, had to say about the CEO Build, "Giving back to this amazing community in which we live has been a mission of Tampa Bay Business & Wealth from the very beginning. We are blessed to have a platform that engages the business leaders of Tampa Bay and we will continue to use our voice to inspire others to give back in memorable ways. This partnership will allow us to bring together recognizable influencers, with a large employee base, to bring awareness to a compelling cause – access to the American dream of homeownership for all."
We cannot wait to see this beautiful project come to fruition. We sure know Jasmine is excited as she stated "Becoming a homeowner with the assistance of the Habitat for Humanity program will give my girls and I the security to provide a forever home, no matter the circumstances." Best wishes to her and her family from the Good News Tampa Bay team!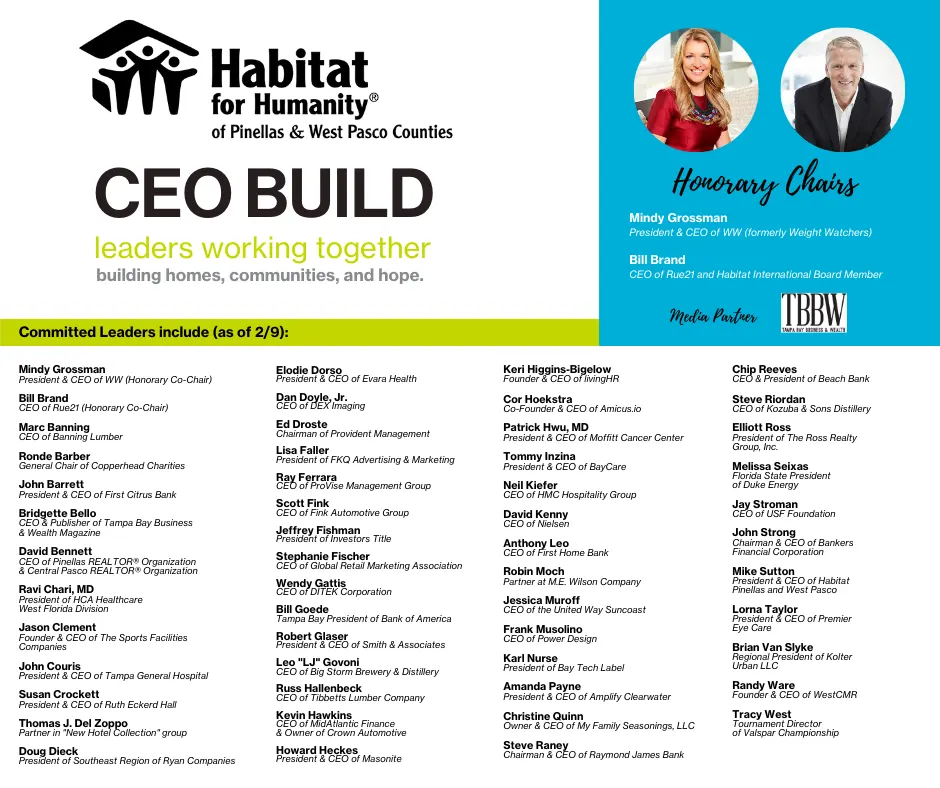 Habitat for Humanity of Pinellas County and West Pasco Counties
Since 1985, Habitat for Humanity of Pinellas and West Pasco Counties has served over 900 families and individuals through its new home buyer and neighborhood revitalization programs using locally raised funds. Volunteers and the future homeowners construct the homes, which are sold at no profit and financed with a zero-interest loan. Habitat homeowner candidates earn 30 to 80 percent of area median income. Candidates must demonstrate need for adequate shelter; ability to pay back a zero-interest loan and willingness to partner with Habitat to invest 350 to 450 "sweat equity" hours. Mortgage monies are used to build even more homes, making each donation to Habitat a perpetual legacy to the community. Habitat believes that homeownership contributes to family stability, leading, in turn, to community stability. For more information about Habitat for Humanity of Pinellas and West Pasco Counties, call (727) 536-4755 or visit www.habitatpwp.org.