New Craft Beer & Sauce Tasting Now Open in Bradenton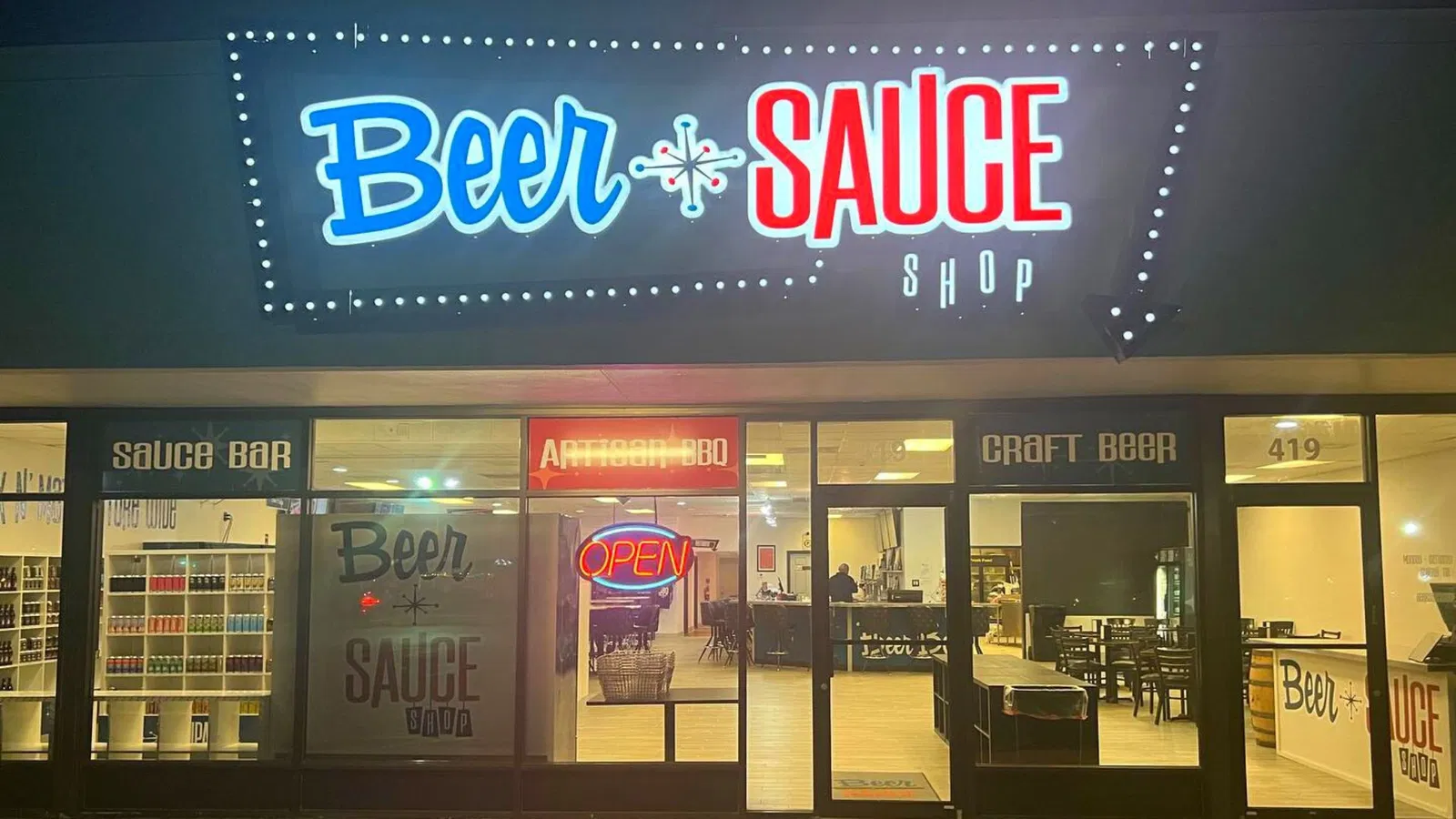 Those escaping the winter weather of the Missouri (long-term or temporarily) and seeking craft flavor will now be able to head to BeerSauce Shop Bradenton for their fix of craft beer, artisan sauces and rubs, and a St. Louis-Style BBQ menu. BeerSauce Shop's sixth location and first out-of-state franchise, is NOW OPEN at 419 Cortez Road W., Bradenton FL, 34207. The shop's Grand Opening event will take place on Friday, December 30th from 12pm – 7pm.
"We are absolutely thrilled for Gary King, a native St. Louisan, to take the reins on the first ever out-of-state BeerSauce franchise," Andrew Tessmer, Co-founder of BeerSauce franchising, said. "Since the first BeerSauce Shop opened in St. Peters, MO, in 2017, the goal was to put a bunch of our unique flavor experiences in communities that we think would really get along with our mission of bringing a rotating selection of 500+ craft beers, 200+ BBQ sauces, hot sauces & rubs, and weekly tasting events to the community."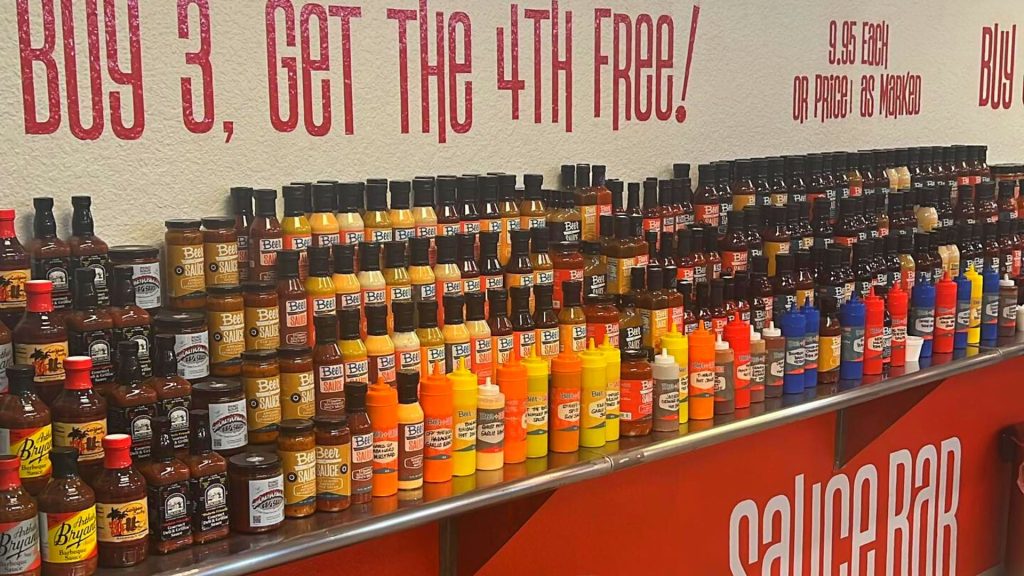 The Bradenton location will feature the same thing that made the very first BeerSauce Shop a hit — an ever rotating selection of 500+ craft beers on the shelves, 200+ BBQ sauces, hot sauces and rubs for purchase from the Sauce Bar, 22 unique beers on draught, and a St. Louis-Style BBQ menu.  
"I'm excited to bring the BeerSauce flavors to Florida," said King, franchisee of BeerSauce Bradenton. "I was ready to get out of the machinist industry and into something I love and can have fun with. As a guy on a competition BBQ team with a passion for good beer and wanting to relocate to Florida, I knew BeerSauce Shop was the best way to go into business on my own."
BeerSauce Shop rotates through more than 200+ house barbecue sauces, condiments, pickles, hot sauces and rubs. The Sauce Bar features all of the sauces and rubs in sample bottles for customers to squeeze or sprinkle onto tortilla chips or cups, or, better yet, they can enjoy a myriad of sauces on their St. Louis-Style BBQ sandwiches or pork steaks.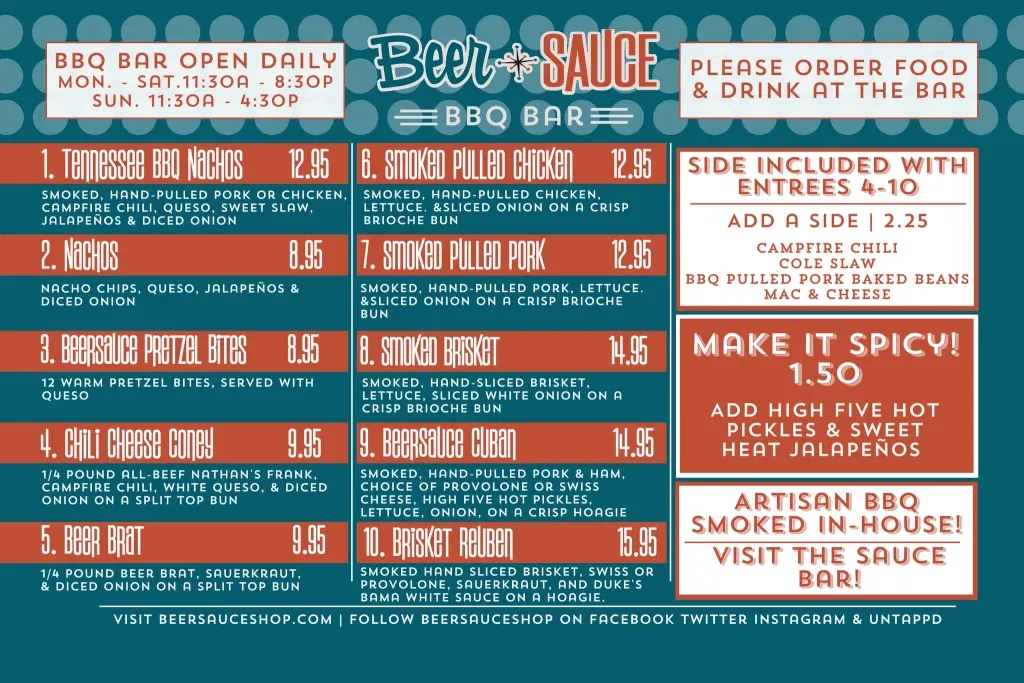 "We've also added a ton of BeerSauce Shop original sauces and rubs to our arsenal, which folks can try before they buy. Our BBQ menu was designed to accept a wide variety of different sauces and rubs, and give folks something new and delicious to enjoy while drinking and shopping," Tessmer says. "My favorite is the Italian Smoked Brisket. I add a sprinkle of our Big Boss Bourbon BBQ Rub, a smattering of our Capone's Spicy Italian Topping, and top it with any one of our nice sweet sauces."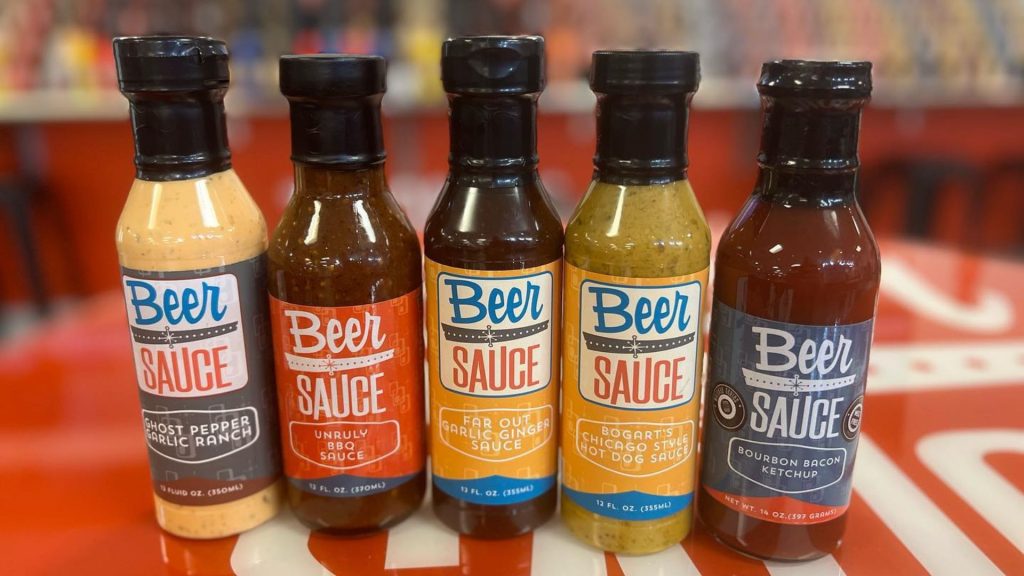 BeerSauce Shop Bradenton's smoked meats will be made "in-house" by King, a regular on the competition BBQ circuit. Like the original, feature entrees including the ever popular BeerSauce Burnt Ends, the top selling Tennessee BBQ Nachos and the Brisket Reuben featuring BeerSauce Shop's Duke's Bama White Sauce. Specials will also be offered on a rolling basis. 
Ever focused on building and welcoming the flavor community, BeerSauce Shop hosts weekly flavor schools in the areas of beer, BBQ and flavor, led by renowned brewmasters, pitmasters and flavor makers. BeerSauce Shop also hosts monthly Beer Nerd Classes led by in-store Cicerones (think sommelier for beer), as well as Friday night releases and Saturday tastings. In addition, the shop will host large outdoor annual events like a Chili Cook-off and Beer Fest, Cigar and Whiskey Fest, BBQ and Blues Fest, Florida Bourbon Trail Fest, etc.
BeerSauce opened its first brick and mortar Shop in July 2017 at 318 Mid Rivers Mall Drive in St. Peters, MO as a craft beer and sauce tasting and shopping experience with 500+ craft beers, 200+ sauces and rubs, and a full BBQ Menu. The goal of BeerSauce's founders is to bring flavor to communities everywhere!
For more information, please visit www.BeerSauceShop.com, or email Bradenton@BeerSauceShop.com